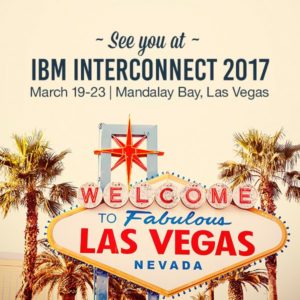 In 1 week I will leave for my second trip to the USA for an IBM Conference. This time it will be IBM InterConnect in Las Vegas. Not only to attend, but also to speak again. A friend of my will join me on this trip. We will fly to Los Angeles and drive up to Las Vegas. After the conference we will have some time get back to LAX, a sort of mini road trip.
Out of my comfort zone
IBM InterConnect is a much bigger conference, compared to IBM Connect, at the Mandalay Bay in Las Vegas. It is focused on Cloud, Watson and Internet Of Things. There are 2000+ session, labs and hands on's to choice from. I have primarily focused on a few topics to made it manageable to fill my schedule. And still I have a lot of time conflicts. I will see how it will work out.
Ginny Rometty, CEO of IBM, will do a keynote at Tuesday and will be joined by Marc Benioff, CEO of SalesForce. Will be the first I hear her speak in person.
As far I can see there will be some great sessions and as a developer there will be a lot to learn. IBM Connect, which I attended 5 times, is smaller, cosier and lots of familiar faces. Lots of the same people, which you see or 1 time a year or at other User Group events, like Engage or Icon UK.
So InterConnect will not only be bigger, but there is also an opportunity to meet other people, so great to network. I am very curious to the whole experience of InterConnect
IBM Champions @ InterConnect
As an IBM Champion you get a lot of extra attention at conferences and user group events. So that will also be the case at InterConnect. At the concourse there will be a 'Meet the IBM Champion' desk, where always be a few IBM Champions around or one of the Champion wranglers, like Amanda Bauman or Libby Ingrassia. But don't hesitate to speak to IBM Champions 'in the wild'. As far I know IBM Champions, they are always open to discuss about various topics. After my session I will also be at the desk to extend the Q&A.
At InterConnect there are also IBM Champions from other products, so it is, for me, a good opportunity to meet more IBM Champions than just the one from the Collaboration Solutions. Looking forward to that.
My session
It is a great year for me so far, first time speaking at IBM Connect, and as (big) bonus, I will also speak at IBM InterConnect.
My session is on Wednesday 22nd of March at 2 PM in Mandalay Bay North, Level 0 – Islander C.
Title 
See How Watson, Bluemix, Cloudant, and XPages Can Work Together in A Real-World Application
Abstract
The role of a human resources employee can be hard work when it comes to filtering hundreds or thousands of job applications. Often, the cover letters are submitted in unstructured formats, making data organization and identification of interesting job applications difficult. In this session, we will share a look behind the scenes of the award-winning HR Assistant application, which uses a combination of IBM Bluemix, Watson and a Cloudant database to improve the recruitment process. See how we integrate these different technologies and display the content graphically using XPages, along with how the development progressed and the challenges we faced.
Hope to see you all at my session, but…….. next door at the Islander B is also a great session by my fellow IBM Champions Chris Miller and Gabriella Davis about 'Embracing IoT in the Enterprise and Blocking the Top 10 Risks'.
Finally
As all conferences there is always a lot of fun and special events, like the Zac Brown Band and Andy Grammer on Wednesday evening. Will Smith will be at the Keynote at Monday morning.
I am looking forward to IBM Interconnect to learn new things and meet new people. To Las Vegas, because it a city so over the top it will be funny again. The weather, because I need some sun.