Currently the Domino Jam 2025 on  underway, both on premise or online, where you can have a say about the missing features for the next Domino releases.
Go participate today, https://www.ibm.com/developerworks/community/groups/community/domino2025.
One of the idea posted by my fellow IBM Champion Daniele Grillo about moving the NSF to a more modern NoSQL approach. I totally agree with him.
Domino/NSF has some very cool features like security. But also a few but very annoying limitations.
MongoDb and CouchDb (or Cloudant) to mention a few very popular NoSQL datastore has overtaken Domino/NSF. The documents are stored as JSON, which makes it very flexible.
Make it modern with OpenNTF Domino API
For HR Assistant we store everything in a Cloudant datastore running on Bluemix. With a OSGi plugin who do the conversion from Java objects to JSON both ways, we store all the data.
A customer had the requirement to save all the data in a NSF, which was not our preferred way. One plus was they were not using the Notes Client to view the data.
So I was looking around who to do it and I found a solution, thanks to Paul Withers (as always ;-))
OpenNTF Domino API has a build in mechanism to convert a field to RichText if the stored data is too big for a normal field.
That was the solution to store all the JSON data direct in 1 notes field, in a document. Almost the way we store the data in a Cloudant datastore. In the end I created a DominoJSONService class with a few CRUD methods
A small code example which shows I can feed the method every object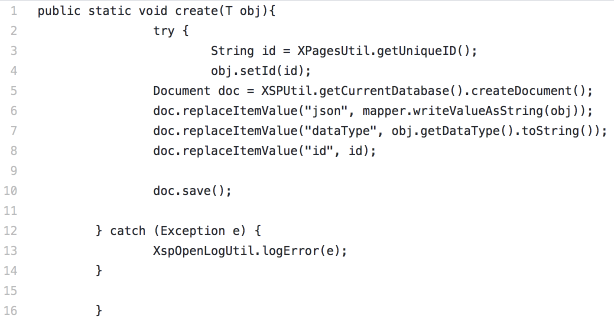 I store all the data in 'json' field, with Jackson Json Mapper to convert the Java objects to JSON.
For this purpose I also store the dataType, which is used in the selection formula of the view.
This opens up lots of possibilities for the 'old' NSF.
Happy coding